The benefits of adding a balcony space to your home is unrivalled, it's reported that having outside space such as a balcony can add more than one tenth to the value of your property. So whilst it's important to consider all aspects of your project before starting it's worth noting you'll potentially be adding to the value of your home, whilst creating a beautiful space to enjoy.
Are you lucky enough to have a room with a view? Perhaps you're looking to add additional space to your home. Or simply you'd like an upgrade to your current balcony. When looking to install a balcony to your property it's important to consider all elements before starting your project.
So where to begin?
It's important to consider consulting the installer from the outset when thinking about installing a glass balcony. Allowing the roofer, carpenter, site agent and client to all know how the balcony will fit into your design at the planning stage allows for design and requirements for drainage and fixing to be built in and avoids any confusion during installation.
Which balcony will suit my property?
Of course deciding on design is important, from frameless free standing, with or without a handrail, or a more conventional post system. This will depend on the style of balcony you prefer but also which will fit in with the style of your property.
Juliet Balcony
As you might expect this style is named after the world renowned scenes in William Shakespeare's, Romeo and Juliet. Traditionally these tend to be with a large inward opening window or doors with a barrier fixed to the outside wall. Using a glass juliet balcony allows for light to still stream into your room and doesn't restrict your view even when the window or door is closed.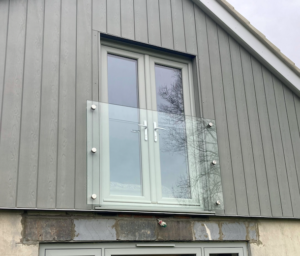 Cantilever and self supporting bolt on balconies 
Cantilever balconies protrude from the facade of a property. Other than the fixings which attach them to the building, there are no other visible signs of support. This style property does not require brackets or chains, it instead uses the weight and imposed load by cantilevering the structure off the wall.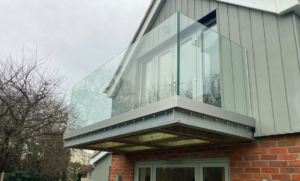 Rules and regulations
Always seek out planning permission or written confirmation that you're permitted to build a balcony. If you start work prior to obtaining permission or deviate from approved plans you may find yourself facing a fine or having to remove the balcony entirely.
There are also some restrictions on glass height and clarity which are imposed by Building Control so it is worth checking what your control officer expects from you.
What next?
We will liaise with you or your project manager to ensure we create the best possible glass outcome for your project. If you require any assistance, or would like to discuss how we can assist you with your glass balcony feature then please feel free to contact a member of our specialist team today.